IQ Dogsport Vest 2.0
€ 114.90
Price includes VAT (19%) and Shipping.
Description
Product information "IQ Dogsport Vest 2.0"
Note: The "drawstring set"  and the "detachable foodpockets" accessory is available separately and is not included with the vest.
IQ Hundesportweste 2.0 – Unisex
This unisex vest is made from a hard-wearing and scratch-resistant material: Cordura. The material is highly durable, water-repellent and breathable. But the vest is particularly characterized by the convertible, patented, large breast pocket and the slot for the whip.
Highlights of the Dogsport Vest
In addition to being extremely comfortable to wear, the IQ dog sports vest also offers many clever details for optimal dog training.
Patented convertible front pocket (one large breast pocket or two separate breast pockets)
Pull system to open the front pocket (to be purchased separately)
Patented slide-in compartment for equipment, position stick or tracking board
Two large front pockets
Continuous large back pocket
Detachable food pockets (to be purchased separately)
Three special magnetic pockets
Cell phone pocket
Patented front pocket
The vest has two separate front pockets. But now with an update. The front pockets can be quickly and easily converted into a single large front pocket. The advantage for dog training is as follows: You can stow a toy in the large, connected front pocket. After retrieval or when retrieving, you can confirm the dog centrally from the middle. The dog learns to sit and hold a central position.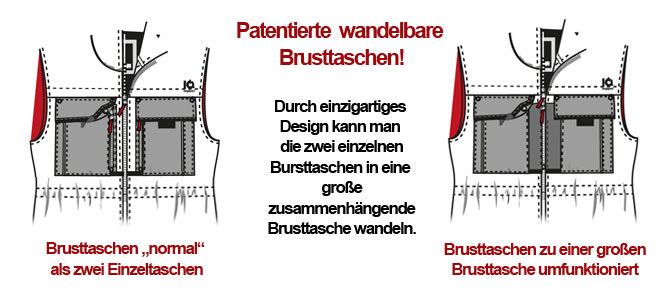 Quick confirmation thanks to the cord system (cord set available as an accessory)
In order to create more tension in the chair, direct confirmation without physical assistance is better for some dogs. For this purpose we have optimized the front pocket system. There are two cords on the left and right waistband of the vest. If you pull it, the front pocket opens and the toy automatically falls out.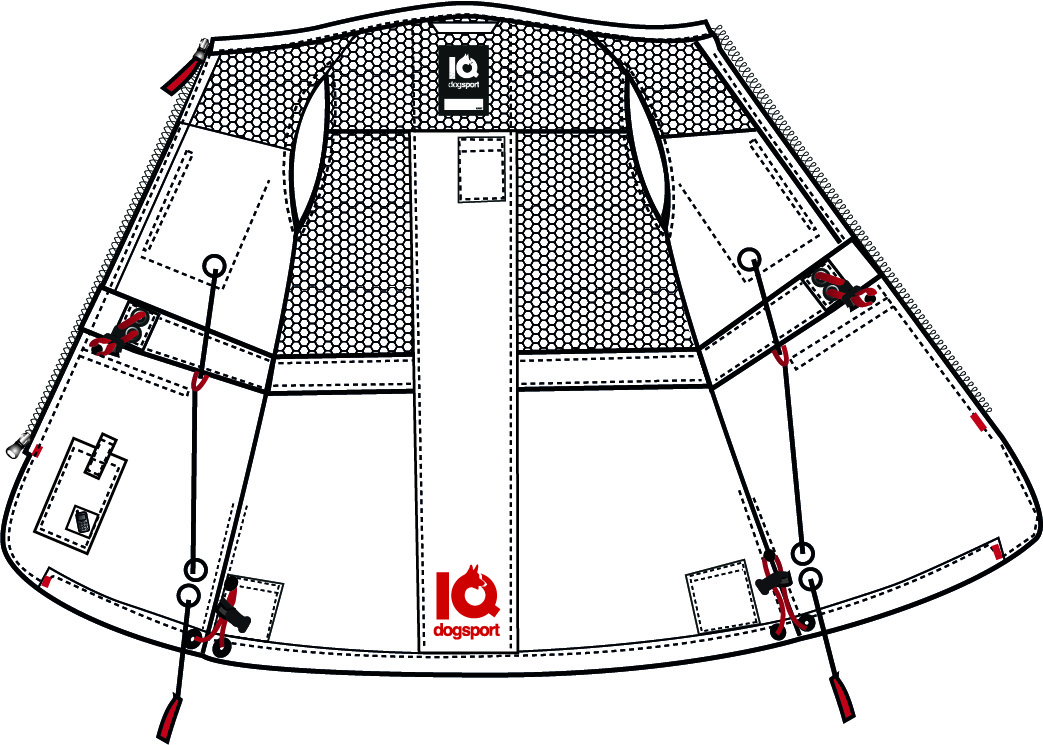 Other Pockets:
Another highlight is the slot for the whip, the position stick or the tracking board. The compartment for the crop extends over the entire length of the back. At the end of the crop compartment there are openings for water and dirt to drain off. There are also openings in the large back pocket for optimal moisture drainage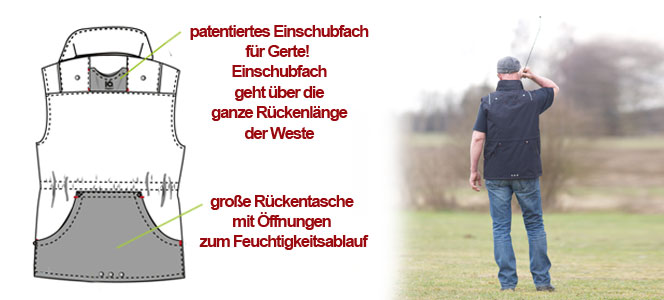 By stowing the expensive magnets (TopMatic or other common magnet systems) in one of the three lockable pockets on the inside of the vest, you can prevent them from being accidentally pulled off your clothing and lost.
Größentabelle
| | | | | | | | | |
| --- | --- | --- | --- | --- | --- | --- | --- | --- |
| Size | XS | S | M | L | XL | XXL | 3XL | 4XL |
| Chest width | 102 | 110 | 118 | 126 | 134 | 142 | 150 | 158 |
| Hem width | 102 | 110 | 118 | 126 | 134 | 142 | 150 | 158 |
| Shoulder width (armhole to armhole) | 40 | 42 | 44 | 47 | 50 | 53 | 56 | 59 |
| Center back length from neckline | 69,00 | 71,00 | 73,00 | 76,00 | 79,00 | 82,00 | 85,00 | 88,00 |
Waschanleitung
Washable at 40 ° C
Dry cleaning possible
Do not iron the jacket
Not chlorine
Not in the tumble dryer
Related links to "IQ Dogsport Vest 2.0"